Feedback from the client was very much appreciated and read as follows:
"I would just like to take this opportunity to thank Kemada for all their hard work in completing a very tight and difficult contract on time and to a very high standard.
This is the second time that I have been involved with Kemada and will have no hesitations in recommending you for further contacts. I can guarantee that your name will be given to M&E Project Managers, highly recommended, for future works within the Spencer world.
Yet again, thank you very much for all your efforts Paul and would be appreciative if you can pass my gratitude's onto the operatives involved especially Neville"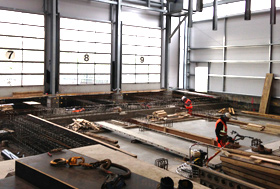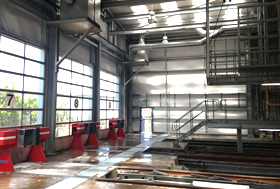 Project Description
Ardwick Depot is a working maintenance depot/shed that required a 20m extension to the building to allow the over head power lines to be installed for new electric powered trains.
The depot had to have substantial civils work carried out prior to any lighting or power installations to the site. Lighting was then installed to the new pits, gantries and high bay areas that included all containment to both new and modified electrical equipment.
The project included the removal and relocation of the existing fire, security and access equipment from the depot gable end to the newly constructed gable end extension.
Scope of Supply
Safe isolation and removal of existing electrical services to West End Depot pit lanes
Installation of:
New IP rated Trunking to new depot service pit lanes
High level containment for lighting and air handling units
SWA cables for Air Handling Units
High bay lighting
Pit lighting and Power Clusters
Gantry lighting
Comms Services i.e. CCTV, Door Access and Fire Alarm to West End New Extension
New earthing system to whole Depot including external points
Install new lighting to Train Wash Shed