The Issue
Graham were successful in being awarded this prestigious project and were appointed as the both the Principal Contractor and Principle Designer as part of a JCT Design & Build amended contract, awarded across two phases; the design and the construction works. Graham looked to appoint an approved mechanical and electrical contractor who were capable of both designing and constructing the clients brief and who could be responsible for the coordination of specialist products and equipment to provide bespoke solutions for depot services, namely;
Depot Shore Supplies, Bulk Storage & Fueling systems, CET (Controlled Emission Toilets), Potable Water Supplies, Surface Water Drainage Management c/w Attenuation, OWI systems, and Pumping Stations.
The installation of the specialist plant along with site wide electrical & pipework installations had to be installed in conjunction with the Civil Infrastructure works to a tight working area & time constraints.
The Solution
With the extensive experience of Kemada's Project Management team within the Rail sector, Graham appointed Kemada to deliver the mechanical & electrical design and build package. Full design along with design interface with suppliers and specialist sub-contractors was managed, coordinated & executed by Kemada. Key deliverables of equipment supply was an ever challenging demand to the contract and programming of activities due to the very tight constraints of the site and available working areas. The full extent of Kemada's design & installation responsibility included:
High Voltage Infrastructure; Complete new design and installation to the depots electrical supply was undertaken, comprising of 11kV Switchgear, 11kV to 400V Utility transformer and 11kV to 850V Shore Supply Transformer.
Low Voltage & Lighting Infrastructure; Bespoke design solution for the depot electrical services c/w site wide lighting, apron power supplies, power supplies to specialist equipment, CMS to all areas, along with full CCTV coverage and Access Control, and Wi-Fi access points to multiple areas.
Shore Supply; Design & Installation of 850V Shore Supply system, to enable trains, whilst within the depot area, to operate via an electrical power supply, reducing carbon emissions and noise pollution to local residents and the environment.
Water Management & Control; Site wide mechanical installation for the provision of potable water supplies to TPE welfare and cleaning buildings, along with full drainage management of both foul and surface water. Attenuation for storage control and Interceptor for potential contaminated water was designed within the system. Various pumping chambers and systems were incorporated to enable emptying and transfer of the liquid.
Diesel/Oil Fueling System; A bespoke designed Intelligent fueling system comprising of tanker off-load, 2no. 40,000 Litre tanks, discharge pipework to trackside to 2no. final connection train points.
CET & Train Water System; Tailored solution for the depots waste management was provided, considering operator interface and working environment.
Solar PV Array; Installation of 40kWp turnkey solar PV array comprising of 118 solar panels to reduce the depots carbon footprint and reliance on purchasing electricity from the National Grid. The system generates more than 32,000kWh of clean energy reducing the depots carbon footprint by over 19,370kg annually.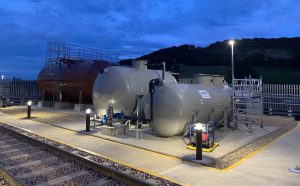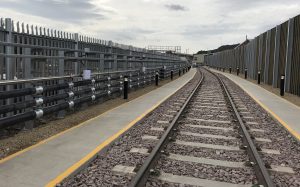 The Outcome
With the project being delivered to a very condensed programme along with construction challenges throughout the build period, Kemada had to ensure we maintained our focus on delivering a first class quality project on time.
Through collaborative working with our customer Graham Construction, the project proved to be a huge success and will now play an important role in transforming rail travel for customers in the region whilst also creating 15 new jobs to help manage the facility and service the trains.
The outstanding quality of the mechanical and electrical installation works is testament to all the hard work and effort the entire project team put in to this prestigious project.