THE ISSUE
LINDAL Valve, based in Leighton Buzzard, Bedfordshire are part of the global business that is the LINDAL Group. Expansion of the UK business in 2010 resulted in continued growth which led to the requirement for expansion of their injection moulding plant during 2013.
The extension of this facility required upgrade to the existing high voltage infrastructure as the existing low voltage supply did not have sufficient capacity to support the new machinery as well as the existing plant.
Within the expansion works there was a designated area for the installation of the new equipment, the position however was not ideal as there was restricted vehicle access between a fence, a building and adjacent to other equipment and services used by the existing factory.
Timescales for the changeover from the old system to the new were also critical as the customer requested minimal disruption to the existing production facility. The work had to be interfaced with UK power networks in line with suitable connection and metering to the grid.
THE SOLUTION
Kemada delivered a full turnkey package which consisted of full design, project management, delivery, installation and testing of the new high voltage infrastructure required for factory expansion.
This included the supply and installation of two new 1000 kVA transformers and closed coupled ring main units, a DNO metering cabinet and new floor mounted low voltage (LV) switchboard.
The preparatory civil work including excavation to enable cable installation and construction of concrete foundations for new plant and equipment. Due to the proximity of this and existing services the decision to hand dig in places was taken to negate the possible risk of damage causing unnecessary disruption to production.
The new large external equipment was craned into position from the adjacent car park as the width restrictions in the area precluded all other forms of delivery.
The new floor mounted LV switchboard was mounted in position and all preliminary cable and wiring was carried out in advance to ensure that the switch over from the old to the new system was possible with minimal disruption to LINDAL Valve's production activities.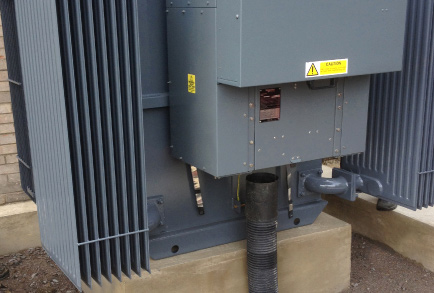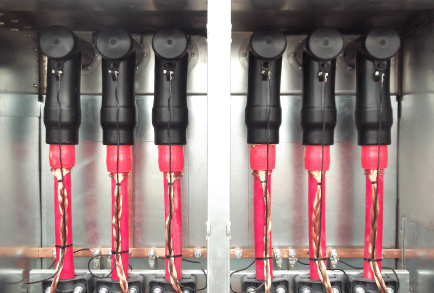 THE OUTCOME
Working closely with LINDAL Valve's procurement and engineering teams Kemada presented a cost effective solution to provide LINDAL Valve with a new high voltage factory supply to replace the existing low voltage supply which had insufficient capacity for the new machinery. Kemada's engineering team carefully guided the client through the process to ensure a trouble free change over onto the new supply over a weekend shut down.
Ian Taylor, LINDAL Valve's Purchasing Manager commented;
"Key to the success of LINDALS's recent expansion has been both the Construction and Electrical Contractors who we have worked closely in partnership with and have continued to deliver on time the associated services for all the projects".