The Issue
Severn Trent provides services to the Ministry of Defence to ensure their potable drinking water supplies, sewage effluent and fire suppression is managed across the Defence Estates known as 'Project Aquatrine C'.
With such major infrastructure upgrades required at RAF Marham, Severn Trent wanted to partner with a contractor who could meet all of their requirements and not only deliver a high quality project, on time and within budget, but to also have the diverse skills and knowledge to deliver a complex and challenging scheme.
The Solution
In January 2017, Kemada were appointed by Severn Trent as the preferred Civil, Mechanical & Electrical contractor to undertake the design and construction of Fire Suppression Systems and Sewage Treatment Plant facilities including;
Detailed design, manufacture, install, test and commission, then set into operation all equipment related to the contract works. Installation of c.5km of varying sizes 180-300mm of below ground MDPE pipework within various surfaces up to and including the "Handshake Point/Connection details". Civil Engineering construction of the 2no. Fire Booster Station building including full MEICA package consisting of electrical and diesel driven pumps, Form 4 motor control centre, complete with instrumentation (level, pressure & flow), PLC control systems and telemetery outstations. Construct 4no. Emergency Water Storage (EWS) Tanks, access roads and footpaths to complete all landscaped areas.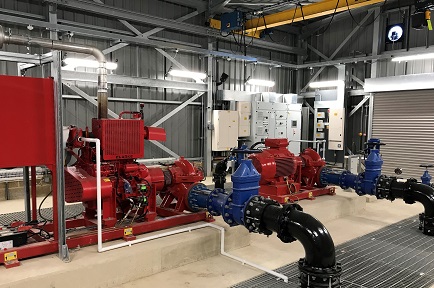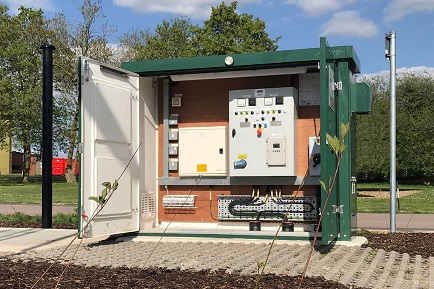 Where possible, plant and equipment was designed to be prefabricated off site to reduce the potential health & safety and environmental risks, whilst reducing the programme duration and possible disruption to a live operational air base.
Package Treatment Works: Supply, installation, test and commission of a new Sewage Treatment Works and final sampling including all groundworks, foundations, access road, footpaths, platforms and gantry's. This also included the associated pipework, control systems and system integration.
The foul sewage pumping stations including valve chambers were fabricated offsite from GRP material and delivered as packaged plants allowing them to be installed on site within just a few weeks minimizing disruptions to the operational airfield. GRP constructed cabinets were also assembled and tested off site containing local control panels & building services all reducing the onsite construction period by 50%.
The Outcome
Regular meetings with the stakeholders, Defence Infrastructure Organisation (DIO) and Severn Trent ensured the project was delivered on time, in budget and to the highest standards required by the Ministry of Defence.
"The upgrade of RAF Marham through Project Anvil was the largest engineering project Severn Trent have ever delivered. Therefore, I approached the Severn Trent Water AMP6 Capital Delivery contractors, along with Kemada for the tender process. Through the rigorous tender process, the decision by all involved in the process was to award Kemada due to their technically and commercially sharp submission, along with our positive existing relationship due to the historical quality of diverse schemes delivered.
Due to the value of the project, the decision was signed off at Director level within Severn Trent Water who had the confidence Kemada could deliver a project of this complexity and magnitude to our largest client, the MOD. By the very nature of complexity and challenges to deliver a state of the art solution at RAF Marham, our decision to place the order with Kemada was without question the correct one. The diverse skills and professionalism of all Kemada Engineers and Senior Management team delivered on time, in budget and to the highest standards – An excellent job executed" – Senior Category Specialist, Severn Trent.