The Issue
Potable Water Pumping Station 01 (WPS01) consists of 2no. fixed speed pumps which run independently from one another. The pumps deliver a pressure of around 6 bar, but could not respond to fluctuations on demand. As such, the pressure profile across the system was erratic and network leakage levels were high. In order to combat these issues, a series of PRV's had been installed but proved to be ineffective. The existing pump sets were antiquated, beyond their serviceable life and required specialist maintenance to keep operable. The pumps would run on a duty/standby arrangement with only a manual switchover, putting the site at a risk of pump failure with no incumbent back-up to supply the system. Emergency Water Supply (EWS) tanks providing back-up for a dedicated fire booster system are supplied from the potable water main. The rate of fill was uncontrolled and this had a major impact on the network resulting in widespread loss of pressure and supply.
The Solution
The existing potable water and fire booster systems had to be fully upgraded and designed to cope with the future demands of the site and provide intelligent automated operational control. All existing pumps, switchgear, control panels, cables, containment and associated pipework was replaced with a new system to meet the requirements of the customer and current regulations.
Awarded under an NEC3 Option A contract, Kemada were engaged as the Principle Contractor to design and install a fully automated system suitable to cope with the current and future demands at Trenchard Lines. Incorporated into the design was a new potable water booster pump set operating on a Duty/Standby/Assist basis to ensure the system can remain fully operable in the event of pump failure or planned maintenance. Controlled by variable speed drives the system ensures the delivery pressure remains constant at all times ensuring best efficiency is achieved throughout. Supported by a back-up diesel generator with automated change-over a new Form 4 Motor Control Centre c/w PLC control and integrated HMI controls the entire pumping station integrating with the existing borehole pump and chemical dosing systems. The full scope of works included:
Full Civil, Mechanical, Electrical and ICA Design inc. Control Philosophy, FDS/URS, PLC/HMI Software
Supply & Installation of Potable Water Pumping Set
Supply & Installation of Form 4 Motor Control Centre
Supply & Installation of 110kVA Generator Set
Supply & Installation of all Instrumentation (flow, level & pressure)
Supply & Installation of Pipework, Access Cover and Handrailing
Civil works including Cable Ducting and Concrete Bases / Structures
Refurbishment of existing Pump Station Building (Walls, Floors, Building Services inc. Heating, Power, Lighting & Em. Lighting)
Testing & Commissioning of the Works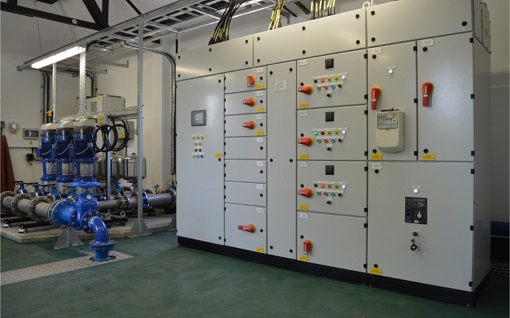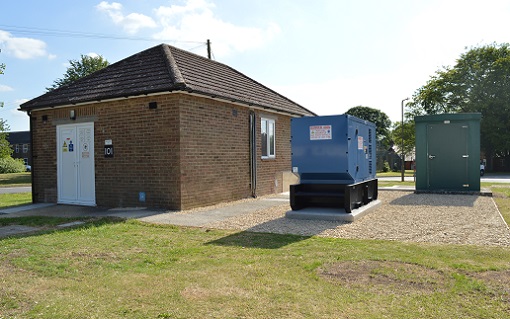 The combined system consisted of a pressurised main incorporating a number of fire hydrants for emergency use. The fire main is kept pressurised under zero to maximum flow conditions by the variable multistage pumps which were arranged in a duty/assist/standby arrangement. Kemada also designed the control philosophy to ensure the system pressure is kept at the required level regardless of the system demand.
The Outcome
The project met all milestones and was completed on time and to budget. Due to the quality of installation and meeting the customers requirements with minimal disruption to a live working site the project was awarded 'Project of the Year' by our customer which was testament to the highly skilled engineers that Kemada deploys on all its projects.