The continued working relationship with Kier ensured that the project was completed to programme with all targets met. This particular project is one of the largest access bridges to be installed within the 4 year roll out scheme for Network Rail which has already seen 700 level crossings close throughout the UK.
The newly constructed bridge consists of stair and ramped access for pedestrians & horses spanning over an existing level crossing which will shortly be decommissioned. Kemada's works consisted of setting out, reinforced pile caps, concrete ramps, palisade fencing and extensions to existing footpaths.  In total almost 400m3 of concrete and 25 tonnes of steel reinforcement were used to support the bridge structure.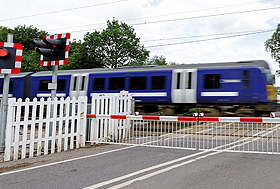 This is another high profile project for Kemada which has been successfully completed to a high standard. Phil Barker, Construction Manager of Network Rail commented;
"I would like to take this opportunity to congratulate the Kemada operatives on site at Great Barton for the quality of workmanship produced on this project. The finish to the concrete footbridge access ramps, as an example, is excellent. Myself, having been in this industry and position for over 30 years, can say that this is the best I have seen. The Great Barton Footbridge Project has been run very smoothly and without issues from the start of the works and the Kiers and Kemada staffs has made my role very easy indeed"
Kemada wish to carry this positive spirit into this year's rolling programme.