Working once again for our prestigious regular customers Grupotec, Lightsource, CTF Solar, WELink, Natural Generation, Pfalzsolar, CWE. Ethical Power and Clean earth Energy, Kemada designed and supplied the high voltage equipment for the sites encompassing the customer substations, earthing, cables and terminations.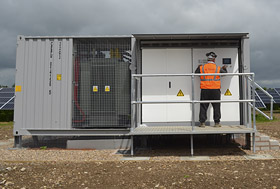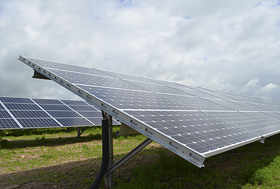 With the removal of the ROC incentive this year, the pressure to achieve park connections on time was greater than ever, forcing Kemada to develop solutions to reduce installation times and costs. Working closely with our switchgear suppliers, Kemada and Ormazabal designed and built a range of compact pre-built GRP substations to suit a variety of switchgear combinations. The substations were assembled in factory conditions with the 33kV switchgear, local LV supplies transformer and all the LV wiring completed before dispatch. Kemada's director Nigel Bird said; "this gave us a real competitive edge and allowed us to deliver and connect a main 33kV customer substation in most cases in a single day, which then allowed us to move swiftly to other sites".
The customer substations included all the high voltage switchgear, G59 protection schemes, battery tripping units and auxiliary transformers necessary for connection to the DNO substation, with the majority being supplied at 33kV; these were all delivered, installed and commissioned to an extremely demanding and tight schedule.
Kemada tested and commissioned all 18 sites, including G59/3 testing using our own directly employed engineers and test equipment and for yet another year. A helicopter was on standby to fly the engineers around the country should the need have arisen! Just the commitment we were prepared to undertake to guarantee our customers' connections.
Kemada also supplied switchgear and substation solutions for a number of connection companies for use on their own solar parks.