Kemada provided Full Electrical Design and Installation for work associated with AFA (Access for All), Lighting, CCTV, CIS (Customer Information Screens), Access Control and Temporary Works.
This is an opportunity to share the success of the project with all of Kemada for a well done and successful Project by all teams involved.
Project Description
Harpenden Station required various upgrades inline with the new access for all pedestrian bridge over the station platforms such as containment works in the form of galvanised trunking along the bridge deck utilising bespoke supporting brackets. Also CCTV along the bridge.
All lighting and safety lighting has been installed along the bridge route as has a large amount of platform lighting columns and also stairs lighting.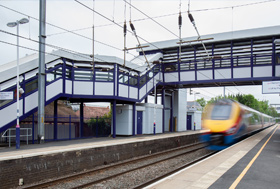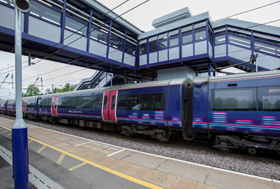 The mains and sub-mains have all been upgraded with a supply from the station DNO cubicle to a new switch room. A new 12 way TP&N main distribution board and relevant circuit breakers fitted. Also new station earthing system has been installed.
The communication services for public information have all been installed and where applicable upgraded.
Scope of Supply
Removal of existing Services
New Containment System for the Bridge, Platform & Lift Services.
New Mains/Sub Main cables for the Station Electrical distribution services.
New Platform & Over Bridge Light Fittings
New Bridge deck CIS, CCTV, P.A. & Relocation of Platform CIS Screens
New Earthing & Lightning Protection
Lift Machine & shaft electrical services
Platform & over bridge small power
Station Information & Surveillance System
All testing and commissioning has been carried out and the installation is NIC/EIC certified