The scheme is dubbed as probably the most high profile safety programme within the UK Rail industry, and the most significant business change programme for level crossings in the history of the railways. The scale of this challenge should not be underestimated and has come about as a result of a number of high profile accidents and consistent themes emerging from accident investigations and recommendations.
Kemada have been contracted by Kier MG Limited who have been appointed by Network Rail to manage the full scheme which currently consists of 87 new footbridge installations over a 4 year period and spells the closure of existing accident hotspot pedestrian rail crossings. Works commenced in March this year with the installation of a temporary 240 metre access road and 200 metre square compound area to enable the main works to commence April 2014 with completion and reopening of a new over bridge scheduled for June 2014.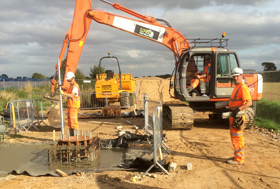 Kemada works consists of, surveying and setting out, clearing existing sidings and pile mat for ground piles. Kemada will then excavate and install reinforced steel cages and form concrete pile caps and plinths with cast in bolt sets for mounting and fixing a new steel sectional bridge by others. The bridge will provide step and ramp access for crossing the rails without the need to cross over live tracks. The works will conclude with the installation of new footpaths, safety palisade fencing, ground reinstatement and levelling.
The works will take place under possession conditions as safety is paramount and will require careful planning as only one side of the rails can be accessed during normal working hours and conditions. To make this project successful Kemada have worked closely with Kier MG Limited to ensure the works are programmed to include night time possessions for plant and equipment movements and off loading materials. Whilst the scheme presents it challenges Kemada are confident that the tight programme and logistics can be overcome to complete the works ahead of programme and continue our strong working relationship with Kier MG Limited and Network Rail.