Beyond flying, the station is also home to the 1STAR, the Tornado GR Force HQ, No. 3 (RAF) Force Protection Wing HQ, No. 93 Expeditionary Armament Squadron, No. 2620 (County of Norfolk) Sqn RAuxAF Regiment, and a plethora of engineering support functions ranging from deep maintenance to front line support. Furthermore, following the 2013 announcement that RAF Marham will be the future home of the F-35 Lightning Force from 2018, RAF Marham is undergoing extensive infrastructure changes across the base in anticipation of the arrival of the UK's first ever 5th Generation, multi-role stealth fighter.
In January 2017, Kemada Ltd were appointed by Severn Trent Services as preferred contractor to undertake the new Fire Suppression System and Sewage Treatment Infrastructure works at RAF Marham. The project forms part of the overall upgrade works to facilitate the new F-35B Lightning II squadrons, which comprises of a new run-way, cutting edge maintenance, training and logistics facilities.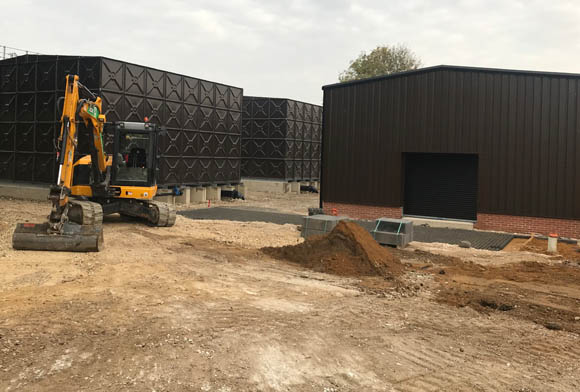 Commencement of our site works began in early February 2017, with an emphasis to install the Ring Main Pipeline to both the North and South sides of the RAF base Runway, which would provide pressurised fire water to the new building facilities and hangers on the site, in addition to various fire hydrants located at strategic locations on site once the works are completed. On completion this would allow other contractors on site to connect their services to the various "handshake points" to provide fire suppression to the facilities constructed.
Kemada were appointed as Principal Contractor, to plan, manage and coordinate all site activities and deliver the programme utilising their in-house work force comprising of Civil, Electrical and Mechanical operatives, with specialist Sub-Contractors appointed to undertake installation of 2no. Steel Frame Cladded buildings, and 4off Emergency Water Storage (EWS) Tanks. All control and instrumentation systems were designed and supplied by Kemada as part of the overall project, which has included various Form 4 and Form 2 Motor Control Centres/Control Panels, Electric & Diesel Driven Fire Pumps, Foul Sewage Submersible Pumping Stations, Pressure, Level & Flow instrumentation, and a new Sewage Treatment Plant. All ground works and support structures have been installed by Kemada along with access roads and final landscaping to areas upon completion of site activities.
The full site programme has been delivered over a 10-month construction period, which has enabled Kemada to work closely with our client's (Severn Trent) project team and site representatives in managing the project working around other Key suppliers to the Ministry of Defence (Balfour Beatty, Galliford Try Lagan Construction Joint Venture, Wates Construction), as well as ensuring the MoD's day-to-day activities remained undisrupted whilst site works progressed.